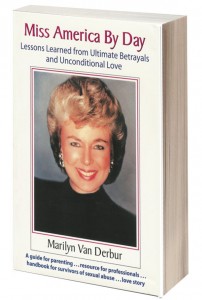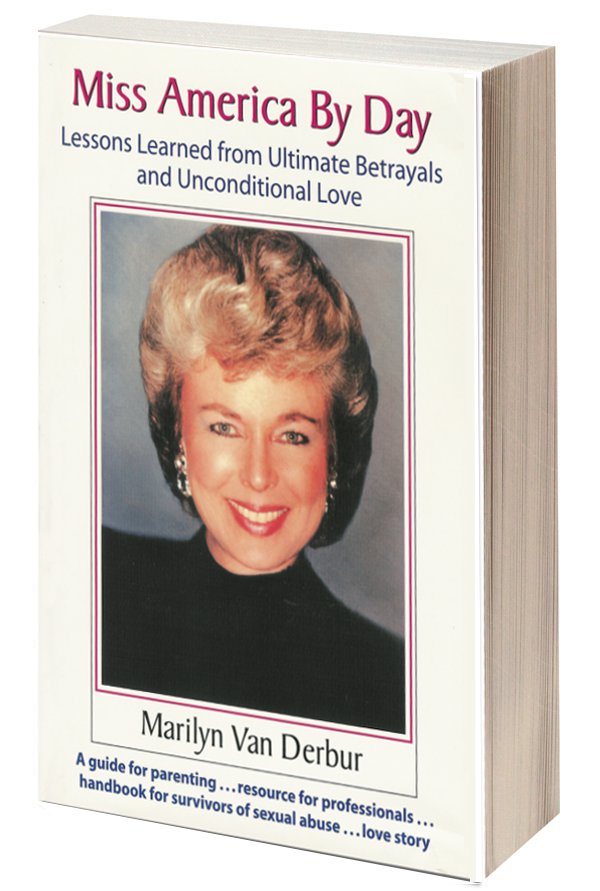 A special portion of Miss America By Day is specifically devoted to helping parents, child care workers and professionals understand the many ways they can help make children safer from sexual trauma.
Marilyn offers unique and comfortable ideas about how and when we can talk with children, teens, and young adults. Readers begin to see many "everyday situations" as opportunities to observe, educate and empower children in ways that they may not have considered. The message is never fear-based, it is always about open communication and honesty.
As you read this book, you will relate to her "real life examples" and find many great samples from which to build your own ideas. Marilyn's positive message is supported by research and years of first-hand interaction with thousands of parents, professionals and abuse survivors from across the country.
SAMPLE SECTION HEADERS & QUOTES:
11 Simple Ways to Keep Your Child Safe

Why Don't Children Tell?




"It is my fervent hope that children and adults will begin to let go of their secrets, but we can't expect them to unless it's safe to tell."

Seven Things You Should Never Say

Beware of "Friendly" Places

You Have Power!

The Good News is Trauma Doesn't Have to Last a Lifetime

Suggestions for How to Talk to Children

How to begin the conversation

Ask your children questions

Many times, we think our children understand what we're doing, and many times we are wrong in our conclusions

A very important conversation that has probably never occurred to you

Three Simple Gifts Every Child Should Be Given
"When I talk with parents or caregivers about sexually inappropriate touch, some become uncomfortable and worried that any physical contact with or among children can be considered abusive. This could not be farther from the truth, nor is it my message. Children need nurturing, hugging, touching, bathing and holding. Appropriate physical contact is vital, pleasurable and contributes to healthy growth and development. At issue in this book are the unhealthy expression of adult sexual urges, inappropriate behaviors and the exploitation of children.
It is never acceptable to satisfy one's needs for power, comfort or sexual pleasure from a child or anyone who is incapable of understanding or freely choosing to participate. Adults and children must learn to recognize their feelings and be able to express their needs in ways that are not exploitive of others who are vulnerable."
As we look closely at this issue we have seen an alarming increase in the number of juvenile offenders. We must become more proactive in the area of perpetration prevention at a much younger age than was once thought.
The topics of sibling abuse and perpetration prevention are addressed in both Miss America by Day, and the video Once Can Hurt a Lifetime. This video is an excellent tool that can be used to open discussions within the family, in schools or when working with juvenile offenders.
One of the most difficult truths for parents to hear and see is that a child they know may be an offender. What we have learned about the prevalence of sibling abuse is startling. We as adults must be willing to speak and act seriously about sexual abuse prevention and not fear using the word pedophile or sexual abuse perpetration even when it is within the context of our own family.
It is crucial that we work to support and educate the children of today in the area of sexual abuse prevention, so that we may protect future generations from the devastation of the sexual abuse perpetrator. For the sake of the victims and the perpetrator, we must not turn away. If there is any hope of truly stopping the cycle of trauma and abuse, it is to intervene at the first signs of sexually inappropriate behavior.
One of the reasons Marilyn wrote Miss America By Day, is because she heard this sentence not hundreds of times but literally thousands of times as she spoke in 225 cities. "When I was 8 and my brother was 14…" "When I was 7 and my brother was 13…" Only the ages changed. Other words she has heard so often are, "A babysitter…"
All parents warn their children to not talk to strangers or go anywhere with a stranger, but one of the most shocking sentences in the book is: "14 year-olds comprise the largest number of sex offenders of any age group!" Sibling incest or sibling inappropriate touching is thought to be five times more common than father-daughter incest. But parents are not talking to their teenagers about what is appropriate and what is inappropriate between siblings. Most parents don't even know that fondling can cause as much long-term trauma as penetration.
Knowing that many people find it difficult to talk to their children about these issues, Marilyn has devoted a whole chapter in the book to "Conversations with Children."
Miss America By Day, is an important resource for anyone who is interested in understanding how extremely common childhood sexual abuse is, or how serious the long-term consequences can be for children who are not given the support and guidance they need to stay safe, heal and/or stop the cycle of abuse they may have been exposed to.
It is surprising how many children don't tell their parents or caregivers about scary things that happen to them. Marilyn guides readers to look for opportunities to talk with children and to empower them to speak the truth. Marilyn gives simple suggestions that will help you help children to talk about the things that frighten them or make them feel uncomfortable. This book offers invaluable practical tools!
Order Now!
Get several for friends and loved ones.