Marilyn Van Derbur addresses healing from trauma (2017)
In September, 2017, Marilyn gave a deeply personal, intimate talk to survivors and support people. She shared information that she has never shared publicly. She gave insights that will help survivors in their own recovery and will help support people to better understand the healing process.
Marilyn was declared the
"Outstanding Woman Speaker in America" after 30,000 questionnaires were sent to meeting planners nationwide.
News and magazine articles highlighting Marilyn's own, personal journey of abuse, healing and becoming one of the leading voices on behalf of childhood sexual abuse survivors. Follow her through the years …
Marilyn tells her story in her most recent videos and shares her journey, recovery, and mission to stop childhood sexual abuse.
IN HER BOOK …
Marilyn's step by step journey of healing.

IN HER DVDs …
Marilyn's live presentations.
"We knew you would be compelling. What we did not realize was that you would affect our audience in such a powerful and passionate manner. We filled the Grand Ballroom with elected officials, family court judges, social workers, law enforcement, child advocates, etc…you had every person's undivided attention. Every eye, every ear was tuned into your message." (600+ attended)"
- Friends of Joshua House, Tampa, Fla.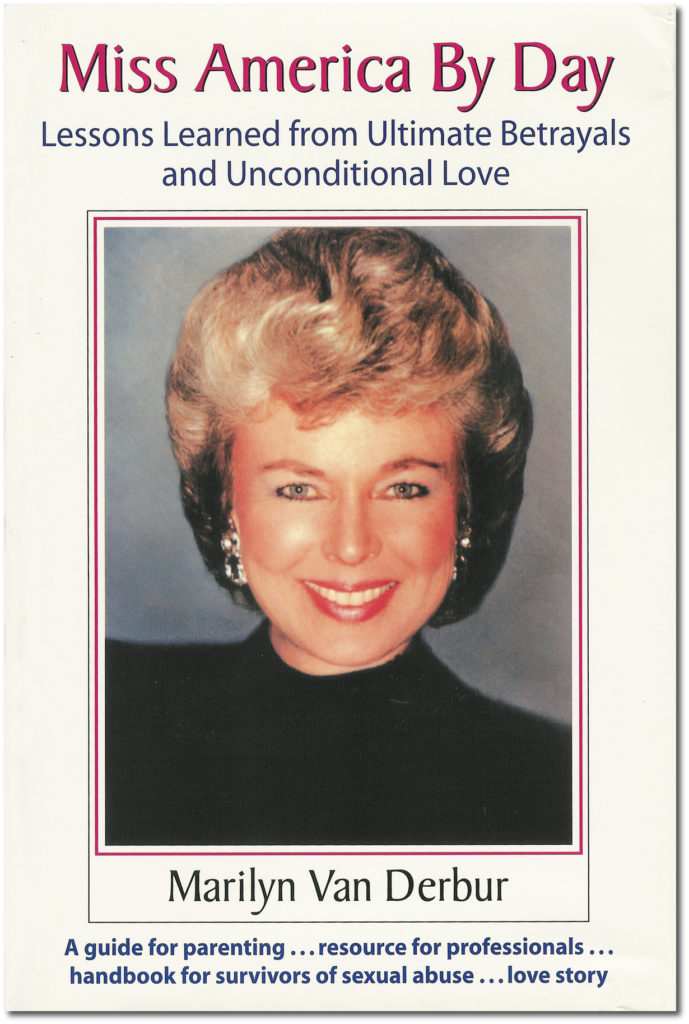 In this long-awaited book, Marilyn Van Derbur, a former Miss America, tells the story of how she was sexually violated by her prominent, millionaire father from age 5 to age 18. She was 53 years old before she was able to speak the words in public, "I am an incest survivor."
She opened the door for tens of thousands of sexual abuse survivors to also speak the words, many for the first time, within their own families and communities.
MORE ABOUT THE BOOK  |  BUY THE BOOK AND DVDS
Won the prestigious Writer's Digest award.1,900 books entered the national competition, Miss America by Day won first place in the "Most Inspirational Book" category.
Won the prestigious Writer's Digest award.1,900 books entered the national competition, Miss America by Day won first place in the "Most Inspirational Book" category.
In this award winning book, former Miss America, Marilyn Van Derbur, describes, in detail, her healing process after 13 years of incest.
"I wrote the book, not because I want someone to learn more about me but so readers can learn more about themselves. And so that loved ones can better understand the brutal recovery process and never again say, "just get over it."   
The pain ends, I promise . . . IF you do the 'work' of healing. A loving, long-term relationship and grounded well, adjusted children await you.
Jane Fonda wrote: 
"Your book has touched me to my core, blew me away,
impressed me deeply…it's very important.
I have purchased multiple copies to send to others…"
Won more awards than any other book in Colorado at the Colorado Independent Publishers Association annual luncheon, including first place for "Most Inspirational" book.
Shelli Hill Snyder, Davie, FL
"This is the most important book I have read on healing,
conquering shame and the question of forgiveness." 
Received the international "media award" (including books, articles, videos and films) as the best-written book on dissociation by the International Society for the Study of Dissociation.

Susan Heitler, Ph.D., author; From Conflict to Resolution:
"Miss America…has made me vastly more effective as a therapist…
I now assign it to couples as homework reading…to enlighten their spouses so they can be more compassionate."
ADDITIONAL RESOURCES
Thanks to the extensive work that Marilyn has accomplished through the years by telling her own story, many more resources are available now, than ever before. 
PREVENTION  |  RESOURCES  |  SUGGESTED READING