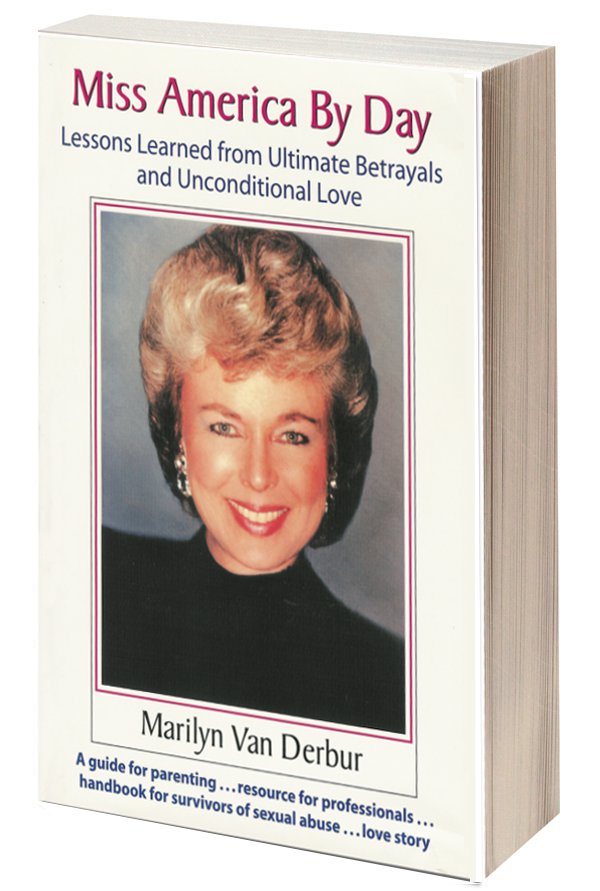 Won the prestigious Writer's Digest award.1,900 books entered the national competition, Miss America by Day won first place in the "Most Inspirational Book" category.
In this award winning book, former Miss America, Marilyn Van Derbur, describes, in detail, her healing process after 13 years of incest.
"I wrote the book, not because I want someone to learn more about me but so readers can learn more about themselves. And so that loved ones can better understand the brutal recovery process and never again say, "just get over it."   
The pain ends, I promise . . . IF you do the 'work' of healing. A loving, long-term relationship and grounded well, adjusted children await you.
A judge for the Writers Digest book competition wrote: 
"Seldom as a judge have I wanted to read the entire book
but I devoured every word of this riveting story…
Told with stark honesty and vivid details that were so important in ridding herself
of the pain, torment and shame…"
Jane Fonda wrote: 
"Your book has touched me to my core, blew me away,
impressed me deeply…it's very important.
I have purchased multiple copies to send to others…"
Won more awards than any other book in Colorado at the Colorado Independent Publishers Association annual luncheon, including first place for most inspirational book.
Shelli Hill Snyder, Davie, FL
"This is the most important book I have read on healing,
conquering shame and the question of forgiveness." 
Received the international "media award" (including books, articles, videos and films) as the best-written book on dissociation by the International Society for the Study of Dissociation.
Susan Heitler, Ph.D., author; From Conflict to Resolution:
"Miss America…has made me vastly more effective as a therapist…
I now assign it to couples as homework reading…to enlighten their spouses so they can be more compassionate."